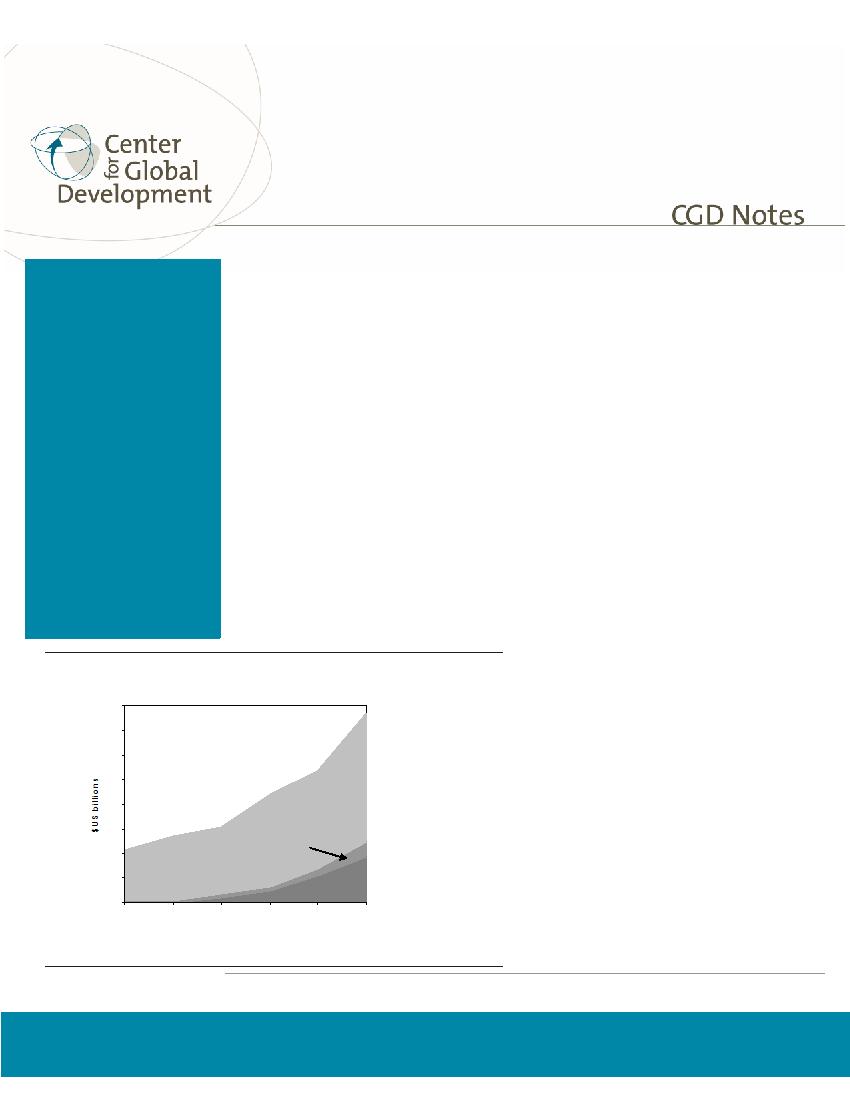 1776 Massachusetts Ave., NW
China ExIm Bank and Africa:
New Lending, New Challenges
Todd Moss (tmoss@cgdev.org) is a senior fellow and Sarah Rose (srose@cgdev.org) is a research assistant at the Center for Global
force in Africa and that China
ExIm is playing a key role.
activities reflect its stated
foreign policy strategy; it is
using tools similar to those of
existing institutions to be
tapped, such as the WTO to
enforce rules on subsidies and
Engage for the long-term.
Work to bring China into the
OECD tent on disclosure and
Source: 2005 Annual Report of the Export-Import Bank of China
Figure 1: China ExIm, Main operations
2000 2001 2002 2003 2004 2005
rise of China's economic and political might
has been felt especially strongly in Africa. China
has long been actively engaged on the continent,
beginning with colonial-era support for nationalists
and mass construction of railways and stadiums in
the early independence period. More recently,
China has made a renewed push into Africa as part
of its foreign policy strategy to secure access to
natural resources and reassert itself on the global
stage. The Export-Import Bank of China is a
growing—if still mostly unknown—instrument of that
strategy, not only to boost trade and investment, but
also to enhance Chinese influence abroad. This
Note presents some of the basic facts about China
ExIm and identifies several potential implications for
The Export-Import Bank of China, established in
1994, is wholly owned by the government and its
management is appointed by, and reports to, the
State Council. China ExIm, along with its two sister
organizations, is tasked to promote exports and
Its main activities are export credit,
international guarantees, loans for overseas
construction and investment, and official lines of
credit. The Bank's portfolio has grown
dramatically, with annual disbursements more
than tripling in five years to $15 billion (Figure 1).
Although exact comparisons are difficult because
of reporting differences, it appears that China
ExIm is now one of the largest export credit
agencies, with primary commercial operations in
2005 greater than those of the lead agencies in
the United States, Japan or the United Kingdom
(Figure 2). However China is not a member of
the OECD and operates outside the export credit
rules agreed by other countries.
The Bank's activities are not reported regionally,
but there is clear evidence of significant and
expanding operations in Africa. In 2005 the
Bank extended its export buyers credit market to
Africa. In January 2006 the government
released its official "African Policy" which
specifically "encourages and supports Chinese
enterprises' investment and business in Africa,
and will continue to provide preferential loans
and buyers credits to this end."
several ExIm projects have been announced in
the media. Although such reports are sometimes
not reliable, reported projects in the past two
A possible $1.2 billion in new loans to Ghana,
including $600 million for construction of the Bui
$2.3 billion in total financing for Mozambique
for the Mepanda Nkua dam and hydroelectric
plant, plus another possible $300 million for the
•A $1.6 billion loan for a Chinese oil project in
•$200 million in preferential buyers credit for
Nigeria's first communications satellite;
A $2 billion line of credit to Angola, with the
possibility of another $9-10 billion;
•Reports of loans and export credits for other
projects in Congo-Brazzaville, Sudan and